You desire to make an impact and be of service to the lives of others

You have an adventurous heart & spirit & want to know a new culture

You want to learn and teach wellness , wholeness , healing & empowerment modalities for those affected by human trafficking

You're ready to dance, laugh, cry, and experience freedom & self expression!

You're open to yoga, wellness, and healing modalities

Desire to grow in your own personal journey, and connect closer to yourself, God and in community of like minded women

You are open to experiencing God in new ways

You know you have a life that is made for MORE than the mundane & ready for be transformed forever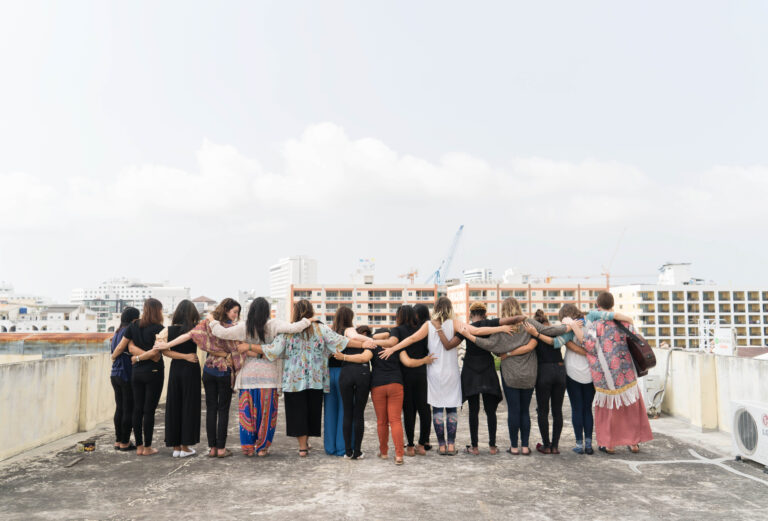 Join us on an all women's Wholeness Journey to Thailand!
Thailand is one of the most beautiful countries in the world. Nicknamed, "The Land of Smiles," Thailand boasts pristine beaches, tropical jungles, delicious food, exotic animals, and smiling people, making it one of the top tourist destinations in the world. But behind all Thailand's natural beauty lies a terrible secret: modern day slavery.
As the Thai economy strengthens and more visitors choose to vacation here, tourism of a different sort flourishes. Human trafficking and sexual tourism continue to grow.
Behind the smiles of many Thai women, men & ladyboys, is the dark reality of their suffering:
The abuse and manipulation of the sex trade causes loss of identity and self worth
The physical, mental and sexual abuse the children, women & men experience can result in spiritual and even physical death
The women of Thailand need to be freed from the bondage of sexual exploitation.
We will be serving with Shear Love International, an organization that rescues women & men from the brothels of Thailand and educates them in becoming independent women & men through life skills, discipleship and beauty school training to live sustainable lives, so they do not need to re-enter the sex-trade. Shear Love International trains people from all walks of life. Whether coming from a background of poverty, abuse, exploitation, or trafficking, they believe all people deserve an education and an opportunity to succeed.
Your trip leaders, Jessica Dahl, Hannah Maher and Jenna VanderHaar are trained in leading on the mission/service field and as yoga/wellness instructors. They bring combined experiences from ministry and the beauty, wellness, coaching and self development industries to lead you in this unique combination of mission trip and yoga retreat.  You will be using tools such as story-telling, art, and yoga/wellness practices, to love on the vulnerable women of Thailand & Costa Rica.
Your team will:
Host mini-retreats for the local women creating a space for God to bring hope, restoration, and redemption
Be equipped to share about topics such as worth, identity, healing, forgiveness & empowerment through storytelling and vulnerability
Learn to share your unique story, giftings, and wholeness journey with others
Learn to love yourself and fill up your cup with wellness, healing, purposeful and empowerment workshops that you will then know how to give to others.
Delve into how to cultivate, & teach on wholeness, wellness, leadership and beauty….you may facilitate a body movement or nutritional class =)
You will grow in your leadership abilities
Build meaningful relationships with your team and the women we serve
Gain a deeper understanding of who God is and who you are
Enjoy rejuvenating yoga & wellness experiences and fresh, local meals
You'll be activated in your own gifts, talents, abilities & be empowered to pursue your dreams and purpose back home. *You may even want to quit your 9-5 job & start your own social impact business or non-profit
You will dance a lot, laugh & cry. You will experience freedom & self expression!
Adventure in the natural beauty of Thailand or Costa Rica
The women & men in Thailand long to know their true worth and value. This is where Wholeness Journey & YOU come in.
We were created as body, mind, emotion, heart and spirit. The exercise of yoga/wellness practices can help us:
Become more connected with our physical body
Increase mental clarity
Lead with your heart
Attune our spiritual ears in meditation and listening prayer to become more sensitive to hearing God's voice in our lives and be empowered in who we are
Through this unique service trip and personal retreat experience you will delve to new depths of adventure, faith, service and wellness. You'll step out of your comfort zone, learn to love yourself deeper while you serve women in need, and press into the wholeness, purpose & leader you are created for you as you go back home!
THAILAND TRIP DATES: SEPT 28TH- OCT 7TH 2023
COST: $2,600 ($300 deposit + $2,300 fundraised)
DEPOSIT: $300 due by July 20th to reserve your spot ( if a situation arises and we are not able to go, the full deposit can go to a future Wholeness Journey). 
Includes all costs on the ground: lodging, transportation, food and team supplies.
(Does not include airfare)
Fill out the Application Form- before each deadline

E-mail with times to set up your phone interview will be sent to you

E-mail with deposit Fee of $300 will be sent to you

Create Fundraising Page

Meet your Wholeness Journey team & raise funds

Embark on your life changing experience!
Can't go on a Wholeness Journey Trip?
There are other ways you can still join our team by prayer and donations below.